Community Living Assistant - Glasgow, Renfrewshire & East Ren
New year, new career?
If your new year's resolution was to make the move from a job you are no longer in love with or apply to work in the care sector, then read on…
Our Community Living service is growing every day; these rewarding job opportunities offer lots of job satisfaction & job security in these worrying times.
The role – Community Living Assistant
We support adults with a variety of complex disabilities, who receive 24 hour care, in their own homes and community. You will be assisting our customers with either 1-1 or 2-1 care; your day will include helping them with their personal care, dressing, medication, communication, mealtimes and participating in their chosen activities for that day.
You will assist with their daily living routines, care needs and facilitating their attendance at college, appointments, recreational activates & social events. We are particularly interested in hearing from candidates with a skill or passion to share such as baking, music or photography – if you love it, this will shine through to the people you support, giving them a taste of new experiences whilst learning new skills.
This link explains it all – make yourself a cuppa and take a few minutes to see what we are all about Capability Scotland - Living their Best Lives
- YouTube
What you need to know
We have full time, part time and relief vacancies in our customers own homes (and wider communities) in the following areas:
Glasgow (East end/Shawlands/Easterhouse/Baillieston – G69/G41)

Renfrewshire (PA4 8QB)

East Renfrewshire (G46/G78)
We can offer a variety of hours/shifts, including nightshifts and evenings and weekends.
Don't let concerns over experience or availability hold you back. We are happy to consider any availability – why not apply to see if we can work with yours!
We are looking for drivers due to the location of our customers and their support needs. You will have use of their adapted vehicles meaning you don't need to own your own car. If you do need to go out & about with our customer for that dinner and cinema trip, costs are covered at no expense to you!
If successful, you will register with the SSSC and will be supported by us to complete your SVQ 3 in Health and Social Care.
Capability Scotland's benefits:
A generous salary of £21,473 - £22,022 FTE / £10.56ph - £10.83ph (dependent on qualifications & length of service)
A generous night shift rate of - £11.08 - £11.37 (dependent on qualifications & length of service)
We recognise and reward qualified employees offering £10.83ph for those qualified at SVQ3 or above.
To help you achieve this qualification, we offer fully funded SVQ – a qualification which is yours for life.
Most services offer, set 2, 3, 4 & 6 week rolling rotas so you always know when you are working and can plan life outside of work.
32 days holidays per year, increasing to 37 with service.
Free PVG checks throughout your employment.
Fully funded SVQ – a qualification which is yours for life.
Up to 8% company contribution pension scheme.
Up to 3 x annual salary death in service.
Perks at Work – shopping discount scheme.
Cycle to work scheme.
24/7 employee assistance programme.
Working for us means you would qualify for Blue Light & Concert for Carer discounts
We are One Voice, One Charity, One Spirit, #OneCapability.
Want to be part of this? Apply now
Capability Scotland is a disability confident & equal opportunities employer. Studies have shown that women and people of colour are less likely to apply to jobs unless they meet every single qualification or job requirement. At Capability Scotland we are dedicated to building a diverse, inclusive and authentic workplace. If you're excited about this role but your past experience doesn't align perfectly with every qualification/requirement in the job description/advert, we encourage you to apply anyways. You may be just the right candidate for this or other roles.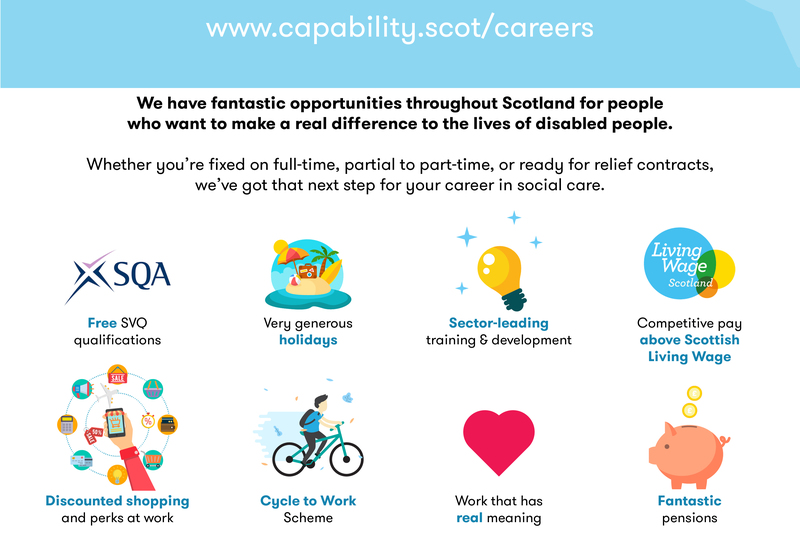 General Information
Capability Scotland is committed to providing services which embrace diversity and which promote equality of opportunity. We are happy to consider job-share applications.
Capability Scotland is committed to safeguarding and promoting the welfare of vulnerable people and conducts thorough pre-employment checks on all preferred candidates.
A copy of Capability Scotland's Equality and Diversity Policy is available upon request from the HR Team.

Community Living Assistant - Glasgow, Renfrewshire & East Ren
How to apply
To apply for this position, simply upload your covering letter and CV below. Please supply these as either a PDF or Word doc.