Do you have experience in care and support? Looking for a change, and interested in being part of something new and exciting?
Capability Scotland is launching an all-new post.
Corseford College is seeking to appoint a team of student support workers who will provide care and support to students. The support you will provide is essential to ensuring our students can access their learning program. The role of a student support worker will vary, meaning no two days will be the same. From supporting the delivery of teaching, and learning as well as helping to support individuals with learning programmes and learning materials appropriate to the needs of the students.
Students at Corseford College will have a range of care and support needs. The needs of the students vary, some will be identified as having severe or profound multiple learning disabilities. They may also have physical and sensory impairments or a range of communication difficulties. Our students will have a range of support needs including in some cases requiring a high level of personal and intimate care needs which need to be met. This might include, administering medication, epilepsy management, gastrostomy feeding, moving and assisting and mealtime assistance. Full training and support will be provided to enable you to take on these roles.
Corseford College is Scotland's first specialist college providing post-school education to this cohort. The college is aimed at Young People who have left or are leaving school with complex learning disabilities, aged 18-25. The college has been developed around the idea of enabling young people to continue to learn and engage in their education journey as they enter the adult world.
The college is developed around eight underpinning principles:
Being Aspirational for all our students
Treat each student as unique, supporting them to find pathways to learn and develop as individuals
Provide students with a curriculum to enable them to develop their skills and successfully transition into adulthood
Ensure lifelong learning and education are accessible to all
Equip students to make choices about their lifelong learning pathway
Recognise and build on prior learning and achievements
A provision that is based on innovative and progressive teaching methods
Support student learning using assistive technology
Our ideal candidates will be confident, ambitious, and caring people with experience in working with young people or adults with additional support needs. We are excited to hear from interested individuals from a range of backgrounds.
We are looking for 5 Student Support Workers to work on a full-time basis (35 hours per week). However, part-time arrangements can be also discussed.
Working with Capability Scotland brings you lots of benefits:
A generous salary of up to £18,760.00 per annum - pro rata (£10.28 per hour)
Fully paid, sector-leading learning and development
Fully funded SVQ placement – a qualification which is yours for life
Excellent annual leave of 32 days per year, increasing with service
Generous and enhanced pension schemes and family benefits
As a member of our autoenrollment pension scheme, £10,000 provided in the case of Death in Service
Access to shopping discounts through the Perks At Work scheme
Access to Cycle to Work Scheme
Flexible working is available
Free 24/7 employee assistance programme
Free PVG checks throughout your career.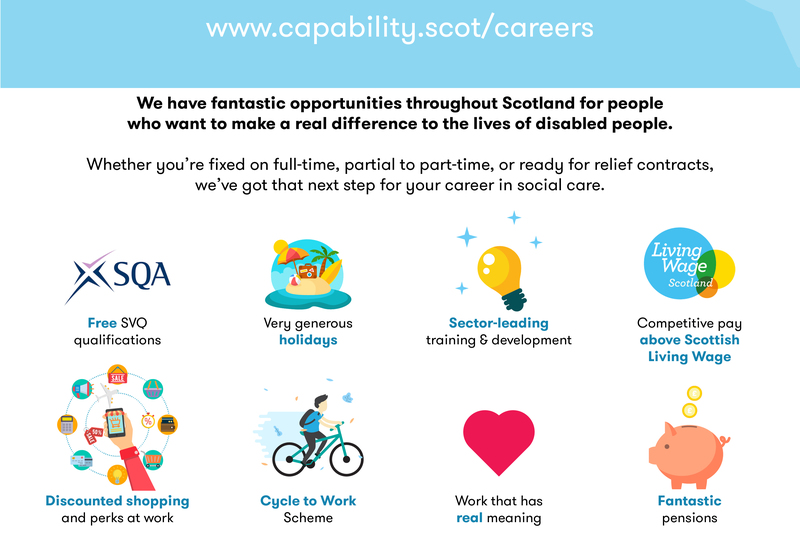 Applying to Capability Scotland
Applying to join our family is easy. At the bottom of this advert, you can submit your CV and a covering letter directly to our hiring service. You'll then hear from us within three weeks of the noted closing date. We'll invite successful candidates to an interview so we can learn more about what makes each other tick, in a safe and secure way.
You can keep a track of your application in your profile management settings.
A full job description of this role is available by clicking here: Student Support Worker
For more information on this role, you can call Leanne on 07944 606616 using reference CS220708
.
General Information
Capability Scotland is committed to providing services which embrace diversity and which promote equality of opportunity. We are happy to consider job-share applications.
Capability Scotland is committed to safeguarding and promoting the welfare of vulnerable people and conducts thorough pre-employment checks on all preferred candidates.
A copy of Capability Scotland's Equality and Diversity Policy is available upon request from the HR Team.

How to apply
To apply for this position, simply upload your covering letter and CV below. Please supply these as either a PDF or Word doc.