We're obsessed with providing the best possible care and support to people with disabilities. Are you?
Junction 52 is a day service where we support a number of customers on a daily basis to ensure that all health and emotional needs are met. We offer a wide range of therapeutic, educational, and recreational activities including our new digital hub which supports customers by providing access to new technologies such as VR, 3D Printing and immersive technologies with the aim of utilising them for new business.
About the Role
We are currently looking to recruit a Team Leader to support the Service Manager in the operation of our Junction 52 service. You will be required to coordinate and supervise a team of support staff in delivering a high standard of social care practice using a person-centred approach that reflects individual customers' needs, wants and aspirations. Support for this role will be provided from the Service Manager and current Team Leaders at the service.
A key part of this role is to coach, monitor, mentor and develop the skill base within the staff team, you will do this by displaying Leadership skills such as role modelling, decision making, being an effective communicator, having a positive attitude, commitment and confidence in the role. You may also be required from time to time to deliver direct support to our customers. Supervision duties and rota management are also required. Supporting staff to complete online training and mandatory training will also be part of this role.
Working with Capability Scotland brings you lots of benefits:
Competitive salary of £29,535.75 per annum
Fully paid, sector-leading learning and development
Fully funded SVQ placement – a qualification which is yours for life
Excellent annual leave of 32 days per year, increasing with service
Generous and enhanced pension schemes and family benefits
As a member of our autoenrollment pension scheme, £10,000 provided in the case of Death in Service
Flexible working is available
Access to shopping discounts through the Perks At Work scheme
Access to Cycle to Work Scheme
Free 24/7 employee assistance programme
Free PVG checks throughout your career.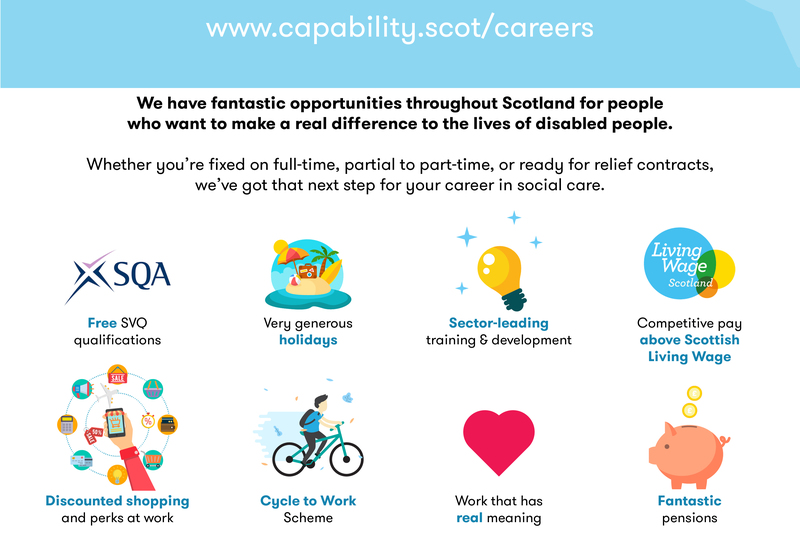 Applying to Capability Scotland
Applying to work with us couldn't be simpler. We've got an application form that starts by pressing "Apply Now", and it works perfectly on your mobile phone if you prefer that. You can request any alternative formats of our application form by contacting [email protected] (such as large print or braille).
You'll then hear from us within three weeks of the noted closing date. We'll invite successful candidates to an interview so we can learn more about what makes each other tick, in a safe and secure way. You can keep a track of your application in your profile management settings.
You can keep a track of your application in your profile management settings.
A full job description of this role is available by clicking here: Team Leader (Day)
For more information on this role, you can call Lynn on 0141 883 8880 using reference CS230302.
General Information
Capability Scotland is committed to providing services which embrace diversity and which promote equality of opportunity. We are happy to consider job-share applications.
Capability Scotland is committed to safeguarding and promoting the welfare of vulnerable people and conducts thorough pre-employment checks on all preferred candidates.
A copy of Capability Scotland's Equality and Diversity Policy is available upon request from the HR Team.

How to apply
To apply for this position, simply upload your covering letter and CV below. Please supply these as either a PDF or Word doc.