Personal Assistant
Personal Assistant
Variety is the spice of life – want a career where no two days are the same?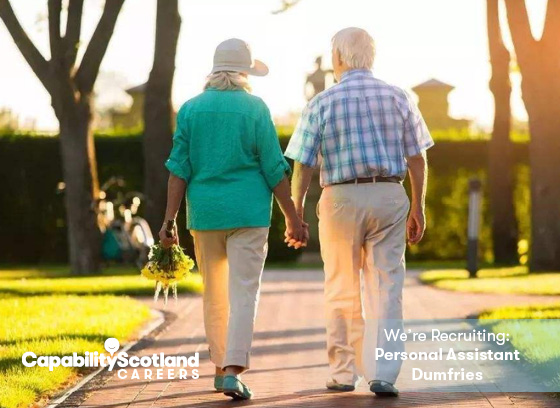 We are looking for a Personal Assistant to help care for an older couple who are based in Dumfries. Both enjoy walking and are looking to stay active and socially engaged.
Support Required?
To provide companionship to both husband and wife as well as some personal care, and household tasks, they would like someone who would confidently take on any cooking within the home if required, also someone with a good sense of humour and lively interests in people in general and an acceptance of sometimes eccentric ideas/behaviour.
Specific Training required?
Clean Driving Licence and access to own vehicle is essential. 

It is desirable that applicants have had previous experience in adult support services or care services, however, specific training can be sourced if the successful applicant has no previous experience in working in adult support services.

It is important that the successful candidate/s are able to work as a team and communicate appropriate information to other PAs as and when required.

Post is subject to a satisfactory PVG.

Successful candidate must be willing to cover holidays and sickness also.

Applying for this Role

Applying to work with us couldn't be simpler. We've got an application form that starts by pressing "Apply Now", and it works perfectly on your mobile phone if you prefer that. You'll then hear from us within three weeks of the noted closing date. We'll invite successful candidates to an interview so we can learn more about what makes each other tick, in a safe and secure way.

You can keep a track of your application in your profile management settings.

For more information on this role, you can call Nicola on 07815654562 using reference AHNR13622.

General Information

Please note that Capability Scotland is not the employer but is acting on our client's behalf, who is the employer.
Capability Scotland is committed to providing services which embrace diversity and which promote equality of opportunity. We are happy to consider job-share applications if this is suitable for our client's needs.
Capability Scotland is committed to safeguarding and promoting the welfare of vulnerable people and conducts thorough pre-employment checks on all preferred candidates on behalf of our client.
A copy of Capability Scotland's Equality and Diversity Policy is available upon request from the HR Team.