Molly
"Hello gorgeous!"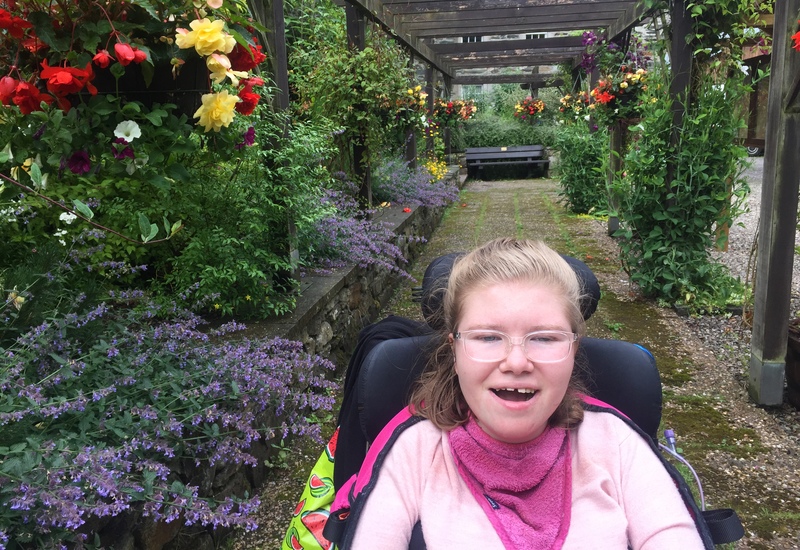 We were able to spend some time with our customer Molly, her mum Billie, and Leanne our Team Leader at Riccarton to learn more about Molly's life, her transition from school to adult support services, and her time so far at Capability Scotland. Molly lives in Edinburgh with her family: Mum, Dad, and sister.
When Molly turned 16 two years ago, Molly and Billie knew there were some challenges to come as the time was near for Molly to move from school, where Molly was settled and established, to a new environment in an adult service. Challenges around transport, local authorities, therapies, and so on have been there but coming to Capability Scotland was the last stop for Molly and her family in transitioning from school life.
Billie said "it's quite a scary thing, leaving school, you're so set in your support networks that there's a huge amount of change moving into adult services but the staff at Riccarton Hub have made it so easy. I've noticed that the staff have a real connection to the customers, they seem to really connect with Molly. Sometimes when people speak to Molly and want to get to know her, it feels cursory, but here at Capability Scotland, you wanted to understand." A lot of Molly's staff team are around her age and this helps them gel well together.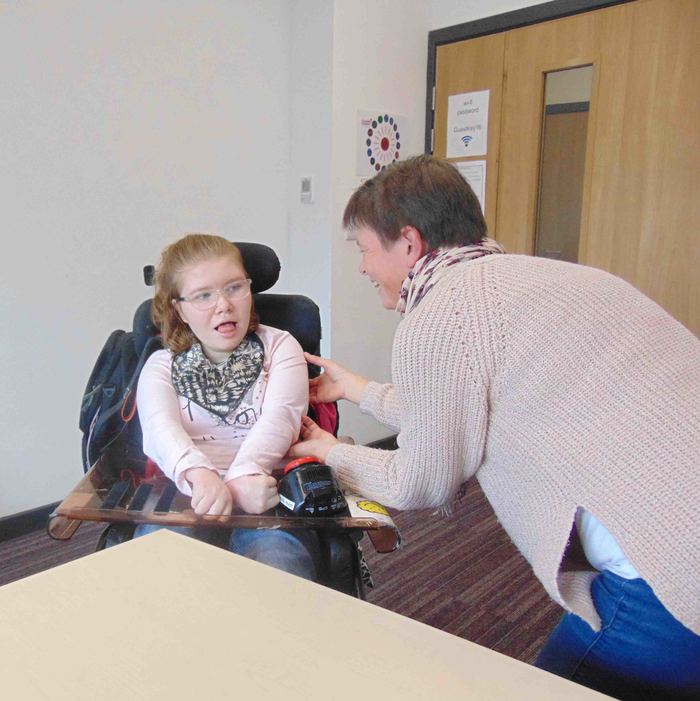 "What you get from this place is a great vibe – it's a happy place, a fun place, a positive place."
Staff at the Riccarton Hub visited Braidburn – Molly's old school – getting to know her before her transition so there were no strange faces between the locations, and have even welcomed the whole school class to visit the Riccarton service.
"We got such a positive vibe when we visited Riccarton for the first time that when we got home we said 'THAT'S the place for us!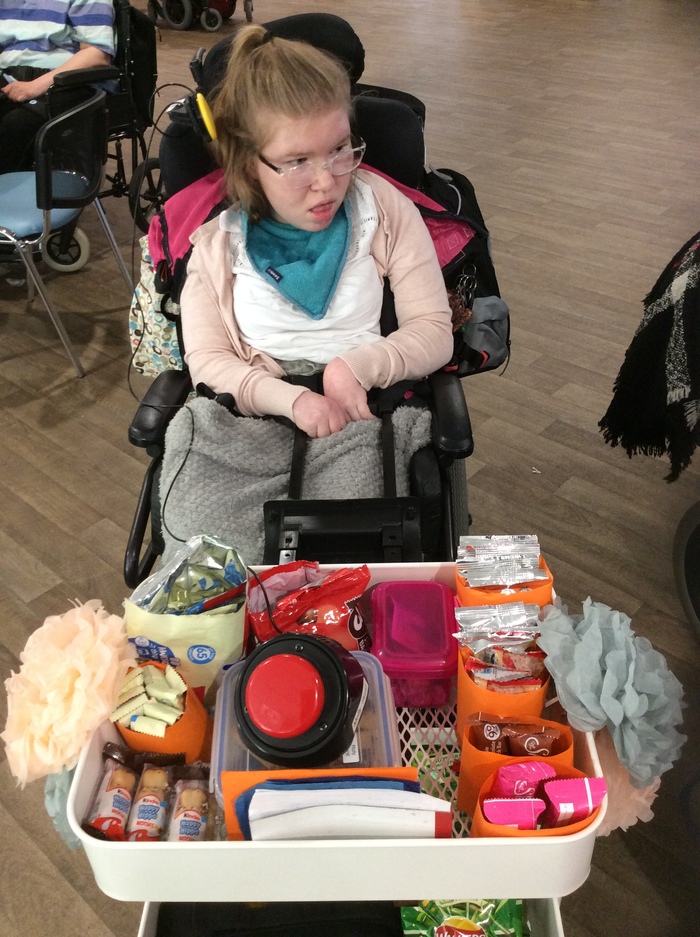 "When you tell people where Molly is now, they understand why she is doing so well. I felt Molly's transition was comprehensive – Capability Scotland wanted to get to the bottom of things and wanted to understand things that worked for Molly.
"The communication between us all is brilliant. As Molly is non-verbal, the communication between us and the service is critical. We've had to buy a bigger communication book to help as it's always used – writing things in the communication book like 'Molly is awesome'… the enthusiasm really comes across – and yes she is awesome!"
One brilliant thing we've added to the Riccarton Hub: Molly's Trolley! This is Molly's tuck shop which she organises for users of the Riccarton service. Back at school, she ran the Rainbow Café tuck shop and we knew that was something she loved doing, so we took Molly up to a furniture shop and she chose a new trolley, we bought all the sweets and treats, and had the trolley adapted so Molly could start a new tuck shop in Riccarton.
We learn together about handling cash, look at stock levels, what's been selling and not selling, and this is helping develop some great business skills for Molly through a popular service – Molly even had an ice-cream truck theme added to the trolley, so everyone knows when it's sweetie time!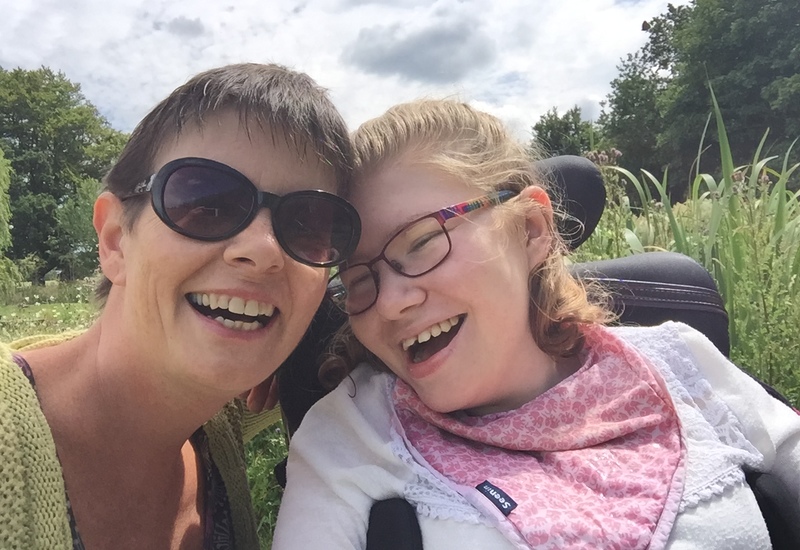 As well as being a budding entrepreneur with her tuck shop, Molly loves to bake.
"What have you been doing at home, Molly? Doing some baking!" Molly's wheelchair is adapted so that she can use her switches to operate the electric mixer at home, and this is something she thoroughly enjoys. She did this at school as well, and so it's been great that she can carry this on at Riccarton. It's the same with learning music – she did this at school and she's been able to carry it on here."
Molly is also an eco-warrior – she's not afraid to give you 'The Look' if you're getting your recycling wrong. Molly and one of her friends in Riccarton have taken charge of organising the recycling there, which is so important in today's world. We're doing what we can as an organisation but it's excellent to have someone as passionate about being green as Molly on board.
Molly used to love hydrotherapy in a pool and the benefits from that. It's something that she's been missing because facilities in Edinburgh aren't always available but the rebound therapy option at Riccarton is going to be wonderful for her to use instead – "Molly loves to bounce!"
"We've had one review so far and it's not like the work in Capability Scotland is set in stone. It's tailored for Molly and if she isn't enjoying something then we can do something else. She's really enjoying the more sensory, storytelling parts of Riccarton's facilities… settling in so well.
"I can always email in or pick up the phone to find out what's been happening each day with Molly, or if there are any queries… they really get Molly."
Molly attends our Riccarton Hub day opportunities service in Edinburgh. If you'd like to learn more about Molly, Riccarton or our work in general, get in touch.