Refer a Friend
We've launched a referral scheme where current staff can refer a friend to work for us and, if that person then secures a job, we will pay the referring staff member £600.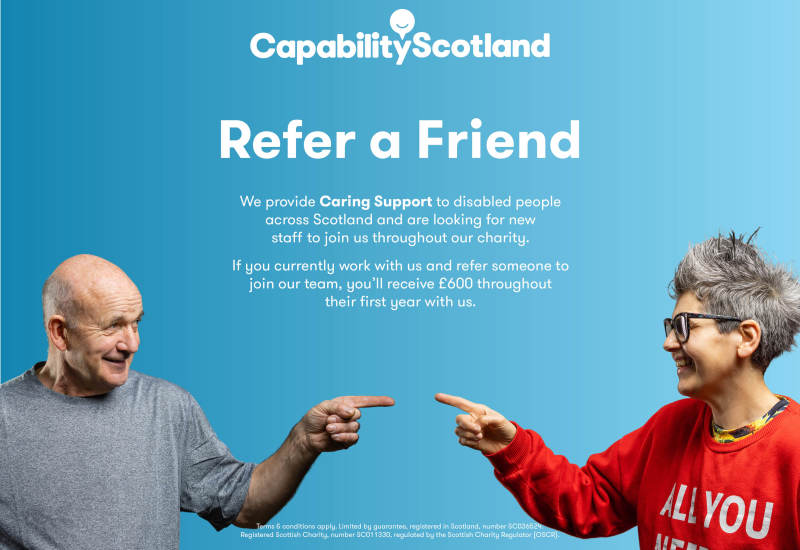 This is paid in three £200 payments - once the new staff member completes 3 months service, 6 months service and 12 months service (so it would be paid in months 4, 7 and 13). When the new start applies they must identify that who referred them. They can add your name to the website application process, so make sure they know to mention your name!
We have to tax it appropriately, but the rest is yours to spend as a thank you for helping (or to split with your friend, your choice!)
There is no limit as to how many people you can refer, how many payments you can receive, or what part of Capability Scotland they work in.
Please note that this doesn't apply to Personal Assistants, Executive level posts, or current agency workers. A payment to current staff will be made on the referral of relief staff only where the referred staff member works a minimum of 150 hours during each of the three-monthly periods: so, if they work 150 hours over the first three months, you'll receive £200, 150 hours over the next three, you'll receive a further £200, and so on. That's around 12.5 hours per week! There's a little bit more on those who leave and return to Capability Scotland, so get in touch if you want more information about this ([email protected]).
Tell your friends to apply today: www.capability.scot/careers