June 2022: The Scottish Poetry Library
08 June 2022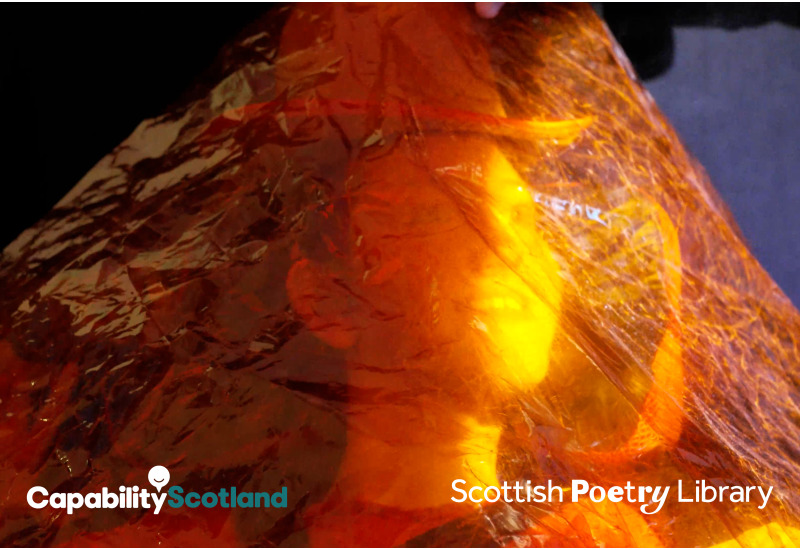 Capability Scotland and the Scottish Poetry Library have teamed up to promote poetry within the disability community, in a new, three-year partnership highlighting what the third sector does best – working together. The aims of the partnership are to cement the commitment to inclusion both organisations hold and to provide access to the life-enhancing experiences that poetry can bring to as many people as possible.
In summer 2021, their first project explored bringing poetry to life through sensory experiences for children and young people with complex needs at Stanmore House School, a Capability Scotland school based in Lanark. Using touch and feel, smells and sensations, storyteller Daniel Serridge and Scots poet Leyla Josephine took the pupils of Stanmore on imaginative story journeys with poetry at the heart, taking written poetry, created bespoke by Josephine, off the page and into an experience. The sensory experiences looked at the themes of elements and climate, an important global conversation.
Celebrating the completion of their first project at a launch event in Edinburgh, Head Teacher Michelle Eckford said, "the work has been excellent and educational for our pupils. We've gone on to develop a sensory library hub for literacy development as a result of this work. The sensory storytelling considered each pupil's individual needs, communication, skills, and their likes and dislikes. As well as being educational and introducing poetry in a new way, it was fun – which is what it's all about at school."
Alistair Heather, Scottish Poetry Library's Marketing Manager, said, "we have learned a lot, and we will use that learning going forward. We are dedicated to doing more of this type of work. We recognise our need to keep reaching out, raising up poetry, innovating the art form. And together with Capability Scotland, we can do that."
Often, poetry can be seen as inaccessible, too academic and beyond the reach of many, but the work of Capability Scotland and the Scottish Poetry Library is proving that this does not need to be the case and that poetry is for everyone.