11 October 2023
Community Transport Week #CTWeek23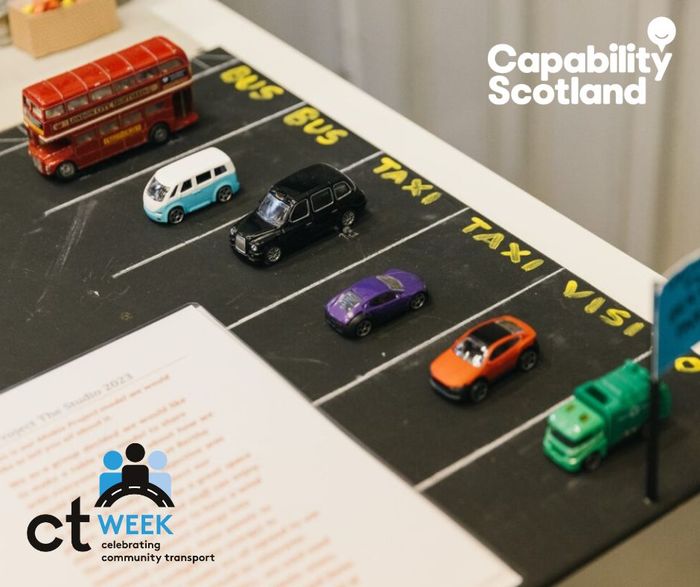 This month, Capability Scotland will join organisations and individuals all over the country in marking the first-ever Community Transport Week, #CTWeek23. Running 16th-21st October, we will celebrate the journeys we make, the people who make these possible and most importantly, the benefit they provide to the disabled people we support, across Scotland.
"Disabled people make 38% fewer journeys than non-disabled people every year – a figure that has not changed in a decade." This shocking statistic shared by national charity, Motability, is something that Capability Scotland is determined to change. Our commitment is shared across the sector and can be achieved through collaboration, investment and of course, celebration of what we do well. That's what #CTWeek23 is all about!
We are committed to breaking down the barriers that disabled people too often face when accessing opportunities for travel and participation. We aim to replace these barriers with sustainable, comfortable and reliable travel options for all.
Every year, across our schools and services we make thousands of journeys that contribute to improved health and wellbeing for the around 1000 disabled people we support. Transport allows us to attend medical appointments, cheer on our favourite sports teams, and everything else in between. All of these things are essential, rich and fulfilling aspects of life that disabled people should have access to, like any other citizen of Scotland.
Keep an eye on our social channels across #CTWeek23 as we showcase the places we go, the smiles we create and everything we achieve through the journeys we make, across Capability Scotland.
The running of our vehicle fleet is complex and costly because we need to ensure that it meets the specific needs of the people we support. Ongoing investment in our vehicles as well as thinking creatively and innovatively around the journeys we make, is essential to ensuring we can provide far more and far better travel options. Donate today and help us provide even more opportunities for disabled people.
Here's to a wonderful week celebrating the very best of Community Transport across Scotland!