27 May 2022
Scottish Poetry Library & Capability Scotland: First Project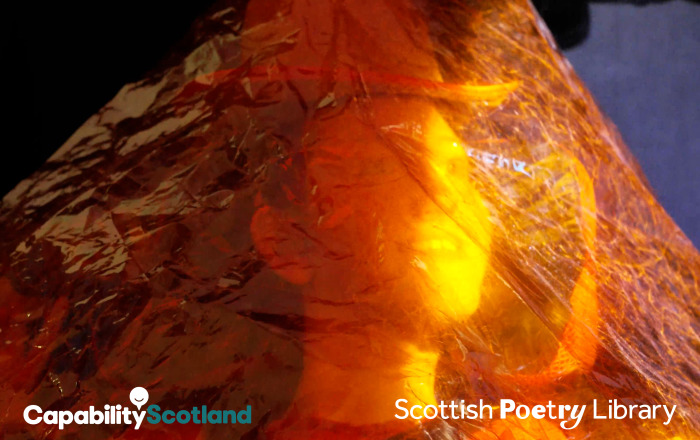 In the summer of 2021, we approached the Scottish Poetry Library to help us commission a poem capturing the work of Capability Scotland as part of our 75th-anniversary celebrations.
Like any good creative project, it morphed and changed along the way. The Scottish Poetry Library put us in touch with a poet to create that work which has now been completed.
We also established a longer-term partnership to help reach new audiences and bring the enrichment of poetry to people who may not readily get to experience it as much as others.
Our first project together explored bringing poetry to life. We collaborated with poet Leyla Josephine and storyteller Dan Serridge to create a sensory experience for our learners at Stanmore House School, in Lanark. We brought poetry alive off the page through storytelling involving touch and feel, smells and sensations.
Our three sensory workshops looked at themes of water, with the story of a shipwreck; fire, with a journey through the desert; and earth, with a trek through the jungle. Poetry played a key theme in these workshops, sitting at the heart of our sensory storytelling.
Take a look at our summary video (9 mins):
As well as being interactive and engaging for our learners, staff and the creative team, this first project was - importantly - educational.
Michelle Eckford, Stanmore's Head Teacher, said, "it was a brilliant and fun experience for everyone. I met with Leyla and Dan before the sessions to discuss our learners' communication, skills and abilities, and their likes and dislikes.
"We have worked hard to develop a whole-school literacy approach and following this experience, the staff's perception of what literacy looks like for our learners has changed.
"We've gone on to develop a central library hub for literacy development, literacy-focused groups, and resources to ensure an inclusive and approach."
Alistair Heather, Scottish Poetry Library's Marketing Manager, said, "we have learned a lot, and we want to use that learning going forward. We want to do much more of this. We recognise our need to keep reaching out, raising up poetry, innovating the art form. And together with Capability Scotland, we do that."
More about the Scottish Poetry Library
More about Leyla Josephine, Poet