2 June 2022
Volunteers Week: Ian White
The Inspiration Orchestra is a long-running project enabling disabled people to play beautiful music. It's led by the amazing Ian White, who has been a volunteer with Capability Scotland for over eight years now, to great success (and lots of fun and expression). We caught up with Ian on the work he started with Upper Springland (our residential service in Perth), all those years ago.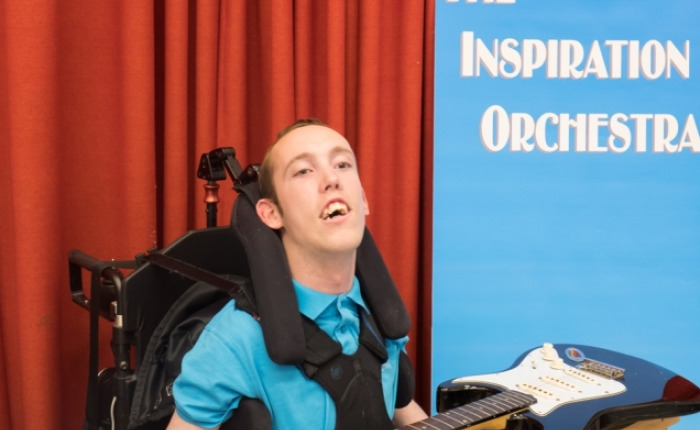 "I like to think that if anyone has been a member of the orchestra at some time, we like to keep the door open for any time they might want to come back. Even if it's never, I still keep the pictures up in the member's gallery of the work we've done together.
"Having started eight years ago just offering music tuition to any customers in Upper Springland, whether resident or day visitor, I now find that most of my time is taken up with people who have joined the orchestra from outwith Upper Springland. We formalised as a Scottish Charity in 2016."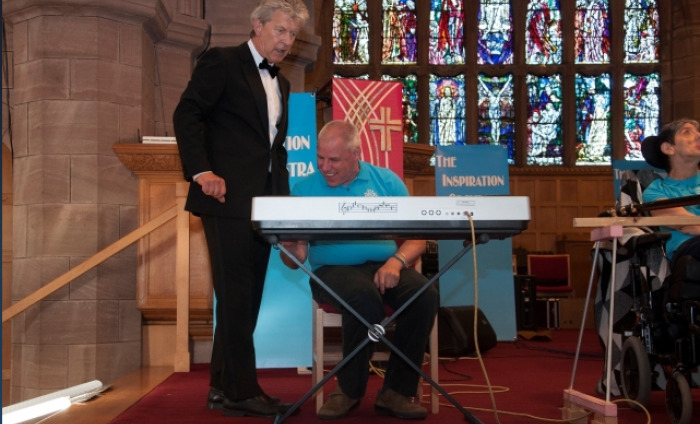 That's right, Ian's work has gone from volunteering a bit of his time to deliver some music lessons to becoming its own fully-fledged and functioning charity.
"The onset of the pandemic two years ago meant that I lost the use of our orchestra practice room that Capability Scotland had kindly made available for me, and of course, I lost all face to face meetings with the people we supported together. I suppose we all tried our best during that time to keep people's morale up in any way possible. Upper Springland staff did a great job, I know.
"I got into a pattern of putting together DVDs, with footage taken on phones by staff, of people either playing their instruments, wearing costumes, drawing banners or waving and speaking to the camera. We were able to show these on lounge TVs in the different parts of Upper Springland, and I know people enjoyed seeing themselves participating, and being part of the orchestra project, even in difficult times.
"In recent weeks, lifting restrictions have meant that I can now visit my practice room a couple of times a week. Live concerts, a real mainstay of the orchestra, are gradually returning, with some Upper Springland customers getting to participate in one in Forfar on Friday, June 17th.

I would like to encourage anyone thinking of volunteering with Capability Scotland to give it a go. Of course, to begin with, you might find some aspects of things awkward, but you'll make friends, learn more about yourself (strengths AND weaknesses!), and most of all do something rewarding for both you and the people you come into contact with!"
Ian provides such a valuable and rewarding service for Capability Scotland, and this volunteers week is the perfect time to say a huge thank you.
More about the Inspiration Orchestra:
http://theinspirationorchestra.com/about/
Pop over to the first public concert evening:
Friday 17 June, 19:30
East and Old Church,
38-40 East High Street,
Forfar, DD8 2EG